Insight
Creative State Michigan
This ambitious and far-reaching project
for the entire state of Michigan has national significance.
Scope of work
Research
Engagement
Creative strategy
System maps
Workshops
Benchmarking
Data analytics
3 Horizon Workshop
Website
Public Presentations
Recommendations
With many large regions transforming from "legacy" economies to economies of the future, it is necessary to build strategies that encompass new business models, new expectations and new metrics. The Michigan economy is a complex mix of powerful global brands (Ford, GM, Kellogs, Herman Miller, Steelcase, Dow) as well as important universities (University of Michigan, Michigan State and Wayne State) and thousands of smaller thriving businesses. The Detroit region has begun to transform from urban despair to a region with a new focus on growth, innovation and extraordinary opportunity, while Flint struggles with infrastructure deterioration.
The findings and recommendations of our work were positioned as a framework for the development of state and regional economic development priorities, strategies and investments to strengthen and grow jobs and businesses across Michigan's creative and design industries for competitive advantage.
We undertook a full assessment of barriers to change and potential alternatives. This involved both quantitative and qualitative inputs and included assessment of future revenues and costs, potential partnerships in service provision and training, key activities and channels for delivery of new offerings, and required resource development with both employees and citizens.
Workshops in Four Cities
Future visioning workshops were conducted in Flint, Grand Rapids, Ann Arbor and Detroit with members of the arts, culture and design communities. In these workshops, participants identified current challenges in the arts and culture ecosystem, explored their vision for the future and outlined intermediary changes that would be necessary to achieve a visionary future.

---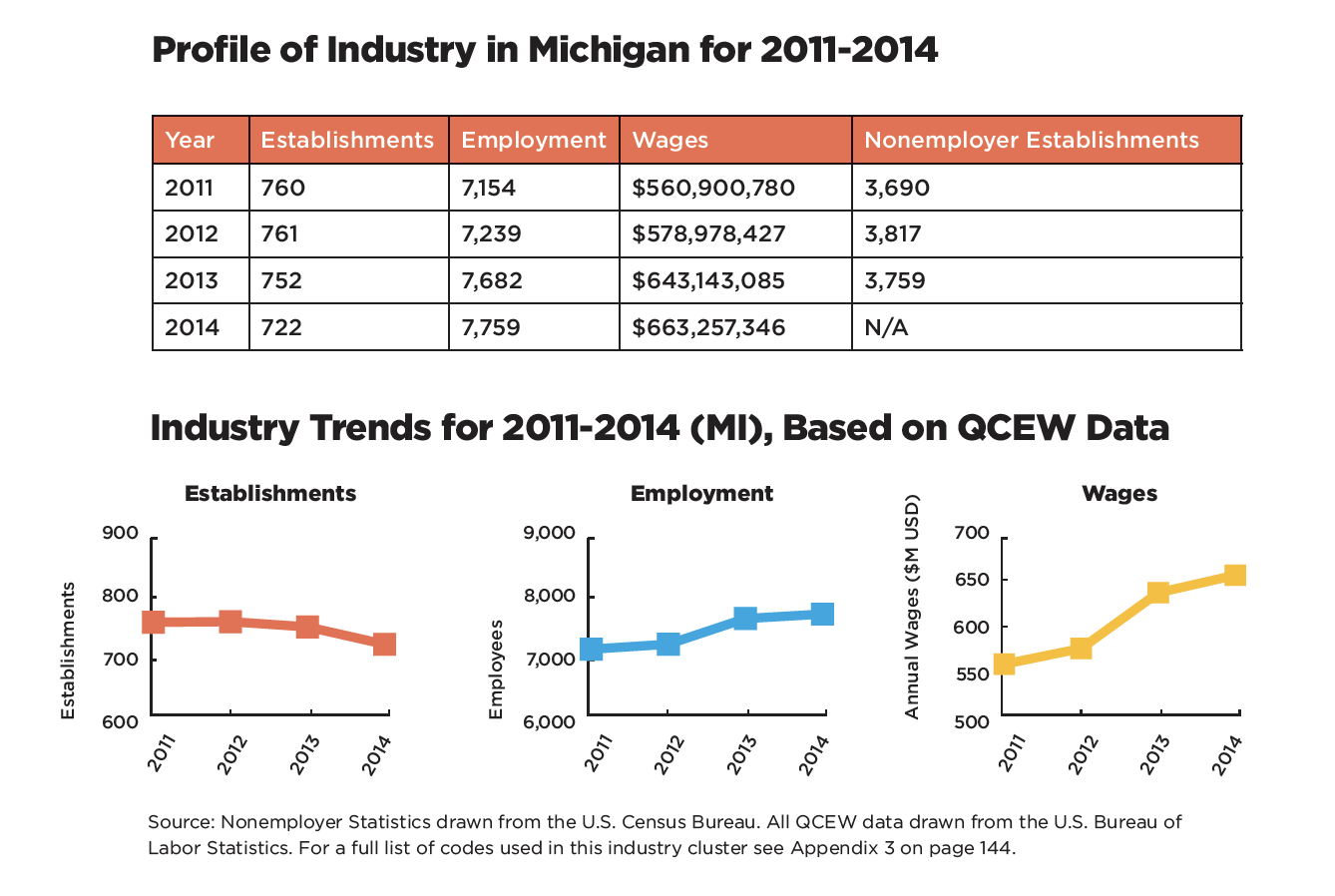 Development of Creative Industries Toolkit
Grounding research in achievable action plans is a necessary step towards positive change. Articulation of approaches to support learning and skills development in the future workforce and workplace, to help Michiganders transition to or from current jobs and to improve retention strategies for highly skilled workers was part of this work. We identified the replication model for this project for applied use by other local, regional and state entities in the US seeking to advance understanding and growth opportunities for the creative and design industries.
Design and Development of Tools
The overall look, feel and tone of the project to align to other media channels, including print, was designed. Effective communications tools were created throughout this project including meaningful information graphics for multiple media applications. A strategic plan was formed to distribute findings through multiple channels, including traditional platforms and social media.
---