About Us

KerrSmith is a multidisciplinary research
and innovation studio specializing in
Foresight and Design.
KerrSmith is a multidisciplinary research and innovation studio specializing in Foresight and Design. We work with a range of businesses and organizations to reframe challenges, create strategies and integrate designed solutions of products or systems. We have developed insights and innovations for clients in a wide variety of fields, including the educational, financial, cultural, retail, healthcare, developer and public sectors.
Why Foresight and Design?
The design of anything – a system, policy, strategy, product, brand, space or communication – is by its very nature an act of thinking about the future. How will such an invention function in the next 6 months, 2 years or 20? Or beyond? Is it resilient? Can it be sustainable? Will it be relevant? What impacts will it have?
Our studio uses Strategic Foresight to rethink tomorrow. The past is an unreliable predictor of the future. How will changes in values, demographics, the environment, the economy, regulations or technology affect your future? KerrSmith helps organizations better understand this. We use a disciplined rigourous approach to Foresight. We have deep experience that will give you significant strategic advantage.
We have worked with government and business across a wide range of sectors. Change is accelerating, providing both threats and opportunities to all organizations. These transformations have the potential to cause significant and unexpected disruption. Foresight is an effective tool to manage that risk, identify openings for growth and prepare you to innovate.
To plan for this emerging environment we provide tools, expertise, experience and a unique knowledge of methods in order to make thoughtful and strategic decisions. We use visualization, contextualization, compelling narratives and design to bring futures to life.
Our design work is based on profound perception of human behaviour and user needs. We research, observe, and interpret experiences from an outsider perspective. We use "Design Thinking", a process for practical, creative resolution of issues, to look for an improved, proven result. We combine engagement, empathy, creativity and rationality to meet user needs and drive success. Our facilitated approach eliminates the fear of failure and encourages maximum input and participation in the ideation and prototyping phases. We use diagnostics to build a foundation of shared understandings and insights in order to answer the right problem.
Our work requires unique and precise acuity. True insights only come with broad experience, and expertise in complexity-mapping, pattern-reading and sense-making. We have unique qualitative and quantitative research skills and proven diplomatic abilities. We synthesize our organizational and prioritization capacities through rigorous critical thinking. It is not easy to determine root causes and fundamental underlying issues when often "louder" and more immediate concerns dominate the view. We frame projects to determine fundamental underlying issues, bring diverse teams together to tackle challenges and deploy varied communication tools to share the findings.
---
CAPABILITIES
Foresight
Horizon scanning
STEEPV workshops
Trend / driver analysis
Future searching
Scenario planning
Implications / Windtunneling
Visioning
Talks & Lectures
Ethnographic research
Stakeholder engagement
Usability testing
Video capturing
Interviews
Quantitative Analysis
Workshops
Design
Business modeling
Product, Systems & Service
Organizational design
Sustainability
Brand strategy
Frameworks
Prototyping
Training
Communications
Visual identities
Print & Digital
Packaging
Signage/Wayfinding
Material exploration
Research ethics planning
Production supervision
Engineering & Logistics
Patent application
---
---
DISTINCTION FROM

"A firm that's exceptional in
the quality of its work."
Robert Fulford,
The National Post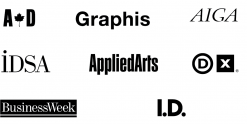 Accent on Design, New York
Advertising & Design Club of Canada, Toronto
AIGA, New York
Alcuin Society, Canada
American Center for Design, Chicago
American Institute of Architects, D.C.
Applied Arts, Toronto
Art Galleries, Toronto
Design Effectiveness Awards, London
Design Exchange, Toronto
Graphis, New York
How Magazine, United States
I.D. Magazine, United States
IDSA, United States
IIDEX, Canada
Mohawk Papers, New York
National Post Design Exchange Award, Toronto
New York Book Show
Nightingale Award, USA
Ontario Arts Council Design Arts Award, Toronto
Ontario Association of Art Galleries, Toronto
Packaging Association of Canada, Toronto
Presidential Design Awards, D.C
Rebrand, New York
Red Dot Award, Germany
Taschen Books "Graphic Design for the 21st Century: 100 of the World's Best Graphic Designers", Germany
Virtu, Toronto
---
LECTURES & PUBLIC SPEAKING
International Design Principles & Practices, Toronto, Ontario
University of Waterloo, Ontario
Detroit Museum of Contemporary Art, Michigan
SXSW Austin, Texas
University of Toronto, Ontario
Sheridan College, Oakville, Ontario
York University, Toronto, Ontario
Ryerson University, Toronto, Ontario
International Design Conference, Tijuana, Mexico
Design Exchange, Toronto, Ontario
NeoCon, Chicago, Illinois
Economy Policy Summit, Detroit, Michigan
University of Manitoba, Winnipeg
Ryerson University, Toronto, Ontario
University of Lethbridge, Alberta
University of Calgary, Alberta
Northeastern University, Boston, Massachusetts
 Resilient Cities, Rockefeller Foundation, New York
Transportation Design, Harvard University, Cambridge
Global Futures: Geneva, Switzerland
Creative Economic Futures, Brussels, Belgium
Futures of a Complex World, Turku, Finland
---
TEACHING
Helen Kerr teaches at OCAD University in the Strategic Foresight & Innovation Master of Design program. Helen has developed curriculum for the industrial design department at OCAD University.
Nigel Smith taught communication design at the Graduate School of Design at Harvard for 7 years. As part of the Faculty of Architecture at the GSD his course covered a range of branding, information, organization and presentation strategies.
---
Foresight
& Design
COMPLEXITY
Complex systems are part of our daily existence. In a technologically interconnected, diverse and unpredictable world, everything from the phones we rely on, to the cities we live in, have become not just complicated, but almost incomprehensibly complex. And that makes the challenges of business and policy-making harder. 
We can help.
We uncover the underlying patterns and logic – a foundation, structure or system – to make sense of what can seem like unpredictable and continuously changing circumstances. We can map the elements of an ecosystem in ways that promote understanding. We use unconventional thinking to identify the openings, test assumptions and build the strategies you need to respond productively. Mastering complexity can be your become your advantage.
INNOVATION
Everyone talks about it, but few really know how to turn it into reality. We are fully aware of the pitfalls, myths and clichés around innovation, and know our clients need to build meaningful and successful solutions to real problems.
The scope and scale of the innovation you plan to undertake must be aligned to your ultimate ambitions and capacity. While many organizations claim an innovation agenda, we know it is essential to match your culture, resource allocation, and capabilities to your specific needs and the needs of the customers you serve.
Our process for facilitating innovation uses a formal process to set goals, expectations, budgets and schedules. We have deep and wide experience in innovation strategy and implementation across many sectors. We'll marry your decision-making process, communication styles and learning techniques with our disciplined framework to establish the foundation for your company's success. We can turn innovation talk into action.
STRATEGIC FORESIGHT
In turbulent and rapidly changing times, it helps to have a handle on what might be around the corner. We use a disciplined and collaborative method of creating resiliency for the future, to help our clients navigate uncertainty.
We live in a complex world where change is accelerating, providing both threats and opportunities to all businesses and organizations. Some of those changes have the potential to cause significant and unexpected disruption. Foresight is an effective tool to manage that risk, identify openings for growth and prepare you to innovate. 
To plan for this emerging environment we provide tools, expertise, experience and unique knowledge of methods in order to make thoughtful and strategic decisions. We can lead you through deep immersive experiences or provide you with thoroughly researched documentation. Always, we will use visualization, contextualization and compelling narrative to bring futures to life.
---
DESIGN THINKING
Design Thinking a human-centered approach to problem-solving. We use a variety of tools to zero in on the issues, clarify insights and explore ideas.
Our studio uses Design Thinking to leverage our creative resolution of complex problems. Our process combines critical thinking, empathy, creativity, collaboration and rationality to meet user needs, innovate and manage change. Design Thinking is an approach based around the building up of ideas. Our studio-based methodology of research, insight, ideation, rapid prototyping, learning and refining establishes a space for nonjudgmental creativity. This eliminates the fear of failure and encourages maximum input and participation in the ideation and early design phases.
Our studio is well-versed in multiple prototyping methods and crafting solutions with an iterative process. It is essential that prototypes are made quickly, so as not to invest emotionally in any ideas that will be rejected.
---
RESEARCH
Qualitative research involves the examination, analysis and interpretation of observations, declarations and actions. Quantitative research makes use of statistical, mathematical or computational techniques to collect empirical data about observable phenomena. It is concerned with questions of cause and effect and can be used to make generalizations about the data or to test hypotheses.
We seek to understand the internal and external contexts and your current strategies or tactics. In order to gain a broad perspective we often design mixed method studies, using both qualitative and quantitative methods for information capture and processing. Our research is designed to uncover underlying meanings and patterns of relationships. It leads to the development of insights about a problem or the rationale for potential quantitative research. Our expertise combines both methods for optimal impact.
---
INDUSTRIAL DESIGN
Our product and system design focuses on research and innovation. Common to all our work is an underlying problem-solving methodology coupled with a strong aesthetic sensibility and drive to meet user needs and realize ideas as fully engineered goods. KerrSmith blends art and science to give our clients better solutions to meet the demands of their customers. This in turn provides clients with added value that helps build business and compete in existing and new segments.
We have the deep knowledge and experience to move projects from an idea to the marketplace, on time and on budget. Our design group defines the problem, explores creative options and executes solutions using advanced computer skills and a strong grasp of all aspects of engineering and production technology. Our business team monitors the project by expediting all business and logistical concerns with equal efficiency. Our working method ensures we achieve maximum results on every project. We collaborate openly with our clients using the six phases of research, concept development, design refinement, design production, production support, and implementation.
Using the most current technology, we offer complete design services including two – and three dimensional modeling and printing, final production specifications and production management. We work closely with manufacturers to reach the highest level of quality in details and consistency.
Great innovation takes great effort, and our rigorous, methodical approach creates a fertile environment for those breakthrough moments to happen. Our broad experience across a variety of categories enables us to design the most appropriate and effective solutions.
Our knowledge of Strategic Foresight, trends, disciplined research methods and material and design expertise, have defined us as one the premiere Industrial Design studios in Canada.
Our experience includes
Consumer Products
Housewares
Furniture and Furniture Systems
Healthcare Products
Retail Merchandising
Health and Beauty
Packaging
Technology
Flooring
Lighting
Signage, Wayfinding and Donor Recognition
---
COMMUNICATION DESIGN
Driven by strategic planning our capabilities in communication design include print, environmental and digital applications. From brochures to websites, events, spaces and mobile applications, we write, edit and design integrated on-message solutions.
Creative work, no matter the dynamism, or cleverness, cannot achieve lasting impact in the absence of effective and substantive positioning strategy based on insight. Informed by market intelligence, (quantitative and qualitative research) and our wide range of cross-sector experience we translate the insights and gaps we find into strategy. We use frameworks that include identification of targets and objectives, defining and balancing resources and priorities and outlining progress benchmarks and goals that are measurable.
Conceptually driven communication uses compelling imagery and language to create impact and memorable work. Linking strong ideas to strategic objectives makes them "sticky" and persuasive. We extend the messages, language and graphic design and writing in a focused way to bring effective results to our clients with the goal of achieving measurable benchmarks.
---
BRANDING
The most strongly defined brands sell the most, captivate the most customers, attract the best staff, get the best deals from suppliers and connect the most with distributors. People want to be affiliated with known, confident, successful organizations or groups.
The best brands are alive, authentic, different and compelling – and as a result, are inimitable. Brands should be driven by an articulated purpose and a sense of meaning.
Branding is not primarily a commercial exercise; rather it is a human-needs based concept that transcends business. Branding is about belonging. We are hardwired to connect – and brands make it easier for us by triggering and signalling this sense of loyalty, and like-mindedness. And so at its core branding is about the display of accomplishment and affiliation.
At KerrSmith Design, we help clients develop meaningful relationships with their target groups through compelling brand strategies and identities that stand out and create a unique experience. The key to success is defining a purpose and meaning and achieving the proper balance between style and substance. All brands need a strong creative platform to thrive in the marketplace, but they must be backed up by strategic direction and true insights.