leadership
Helen Kerr, Co-President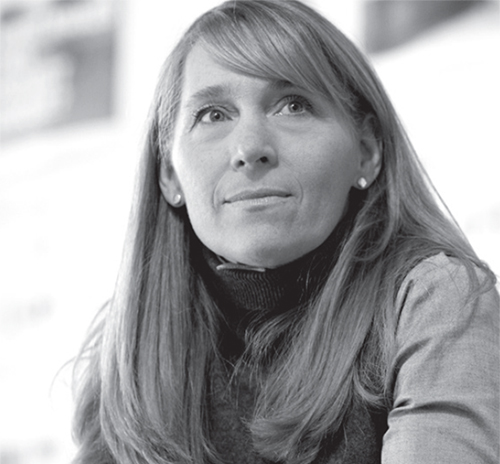 For over 20 years, environmental scientist and industrial designer Helen Kerr has been a leader in design, foresight, strategy, and innovation. Helen is passionate about evidenced-based research and human-centered systemic analysis. Her studio uses integrated information gathering techniques, including ethnographic study and experience prototyping and through intensive synthesis delivers critical innovation breakthroughs in both the public and private sector.
In 2014 Helen was the feature of a CBC Documentary entitled "Great Minds of Design". Other accomplishments include recognition as one of Canada's 10 most innovative designers in 2008, the 2007 Business Week IDEA Gold Medal for Design Strategy; the 2006 Nightingale Award from the Center for Health Design; and recognition in 2002 as one of 100 Globally Significant Designers.
Helen appears on television and radio as design thinker and critic. Her work is often featured in North American newspapers and magazines. Helen is also a professor in the Strategic Foresight and Innovation Graduate Program at OCAD University and has lectured at the University of Toronto's Rotman School of Business and Harvard University. The studio's work is regularly displayed at exhibitions and trade shows worldwide. Helen has been an advisor on design strategy and innovation for the city of Toronto as well as for the provincial and federal governments and has served as a juror on numerous design competitions.
In 2016, Helen was inducted into the Royal Canadian Academy of the Arts.
Recent Public Speaking:
World Intellectual Property Day 2018 "Powering Change: Women in Innovation and Creativity", Roundtable Discussion, Government of Canada, Bayview Yards, Ottawa, ON.
"The Future of Cities", Guest Lecturer, Marywood University, School of Architecture, Scranton, Pennsylvania, U.S.A.
"The Future of Work", Panel Discussion, EDIT: Expo for Design, Innovation, and Technology, Toronto, ON.
"Think like a designer", Invited Presenter, Municipal Innovators Community (MIC), Guelph ON. 2017
"The Future of Food Systems", Invited Presenter, Global Futures – Geneva Perspectives: Local Food Systems & Global Supply Chains, Geneva, Switzerland.
"Creative Economy Futures", Invited Presenter, Design, Develop, Transform, Brussels, Belgium.
"GGH – Multimodal Transport 2051", Invited Presenter, Futures of a Complex World, Turku, Finland.